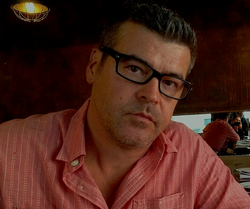 David C. Schendel
(producer, director, cinematographer) David was born in Springfield, Massachusetts and grew up in Minnesota. The son of Alfred Schendel, a successful designer/painter/photographer, David was introduced to the arts before he could walk. David began his career at age 12 with his first film,
Don't Show Mom This One!
A graduate of the University of Washington School of Drama, he started with live-theatre directing before dedicating his talents to filmmaking.
The Can
, David's first feature-length film premiered at the famous Coolidge Corner Theatre in Boston and became a underground film sensation. His award-winning documentary about classic cars in Cuba,
Yank Tanks
was shown at film festivals around the world and screened on PBS and the Sundance Channel. Most recently David directed a short film for Fandor entitled,
Dead Ink Archive, starring Chris Meehan & Sheryl Lee (Twin Peaks).
Currrently, he is finishing a new documentary,
The Comedy Club
, the story of Tom Sawyer, a renowned San Francisco comedy club owner/booker and developing a new feature-length screenplay
The White Houses
.
His apprenticeship with his dad, studies in behavioral sciences and passion for classical theatre continue to infuse his work with an emphasis on humor and a concern for the future of planet Earth. David looks forward to collaborating with other industry leaders to create innovative and entertaining feature films, documentaries, commercials and branded content for many years to come.
---
Daniel Riviera
(producer) Daniel Riviera has over 30 years of experience as an entertainment attorney in the motion picture industry and has been involved with hundreds of projects ranging from Academy Award-nominated documentaries to major motion picture releases. He represents clients involved in all aspects of the motion picture industry, with a current emphasis on guiding independent film productions from financing through the sale of distribution rights. Mr. Riviera is a graduate of Harvard College and Georgetown University Law Center.
---
Lasse Järvi
(editor) Lasse is a Freelance Editor, specializing in documentary films. His feature credits include INFAMY (Doug Pray), SURFWISE (Doug Pray), and SAN VANELOMA (Starz Media). In addition, he has both shot and edited commercial campaigns for various clients, including Microsoft, Boost Mobile, and Jim Beam. He splits his time between San Francisco and Helsinki, Finland.
Lasse's passion for documentary editing stems from a strong writing background. As an English major at Colorado College, Lasse learned the importance of thematic structure, and through his work with Award-Winning Documentarian Doug Pray, he has developed a unique style of editing that puts strong emphasis on pacing and flow. Rather than viewing films as a building process, he sees it as a deconstructive challenge. The footage is slowly whittled down to its essence through countless passes and rough cuts.
---
Joe Pavlo
(visual effects) Joe is a seasoned visual effects supervisor with almost 20 years in film and two Emmys to his name. He's worked on such greats as Band of Brothers, The Life and Death of Peter Sellers & Rome. He has also worked on the likes of Star Wars Episode II and the Da Vinci Code (and that's all he has to say about that). Joe is currently directing his second short film entitled
Downsizer
, building on his previous work as 2nd unit director on studio productions as well as directing music videos plus other independent and commercial projects.
---
Arlen Hart (music supervisor) Arlen Hart is a composer and pianist living in Brooklyn by way of California and Chicago. He grew up on equal parts Bob Dylan, Otis Redding and John Coltrane, musicians who told stories through their extraordinary voices. Since then, Arlen has spent his time creating and seeking music that tells a story. He has written music for numerous films, theater productions, dance performances and commercials. In addition to his composition work he also performs constantly with his afro-soul band, Lady Moon & The Eclipse. He was particularly thrilled to work on The Comedy Club because it gave him a platform to compose music of many different styles and a chance to build a song based on a lyric by his childhood hero, Garth Algar AKA Dana Carvey. To find more of his work go to: arlenhart.com.
---